NHS Long Term Plan Focus Group: Special Education Needs & Disabilities - Version 2
The following report has been shared at the South Tees Health and Wellbeing Executive and Live Well Board. We have produced a second version taking into account feedback from relevant members which have been highlighted in pink throughout the report.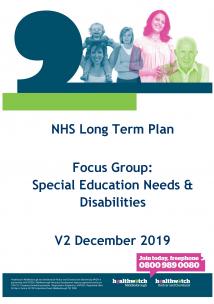 This report is a revision of a report that was originally published in April 2019. 
Click here to read the original report.
Summary
Following the proposal of the NHS Long-term Plan (LTP), the Healthwatch network were funded by NHS England and NHS Improvement to engage with communities across the country to establish how the LTP should be implemented locally. Engagement involved gathering views through the NHS Long Term Plan surveys and focus groups and this information has since been shared with local NHS to help develop plans appropriate for the area.
Geographically, engagement work focused in the Redcar & Cleveland area on the experiences of children and young people with autism and learning disability. This was undertaken mainly from the perspective of parents/carers, although a few young people also took part. Within the NHS long-term plan, there is the action to ensure people with learning disabilities and/or autism get better support (NHS England, 2019). We chose this area following wide ranging community intelligence identifying significant issues for young people (18 – 25) with hidden disabilities with the common overarching increase in poor mental health.
At the time of publishing this report, MVDA in partnership with RCVDA held responsiblity for delivering Healthwatch across South Tees.  Since 1 April 2020 Pioneering Care Partnership has assumed this responsiblity and the contact details that are referred to within this report have now changed.  If you would like to contact us regarding this report, please use the details below.
NHS Long Term Plan Focus Group: Special Education Needs & Disabilities - Version 2