NHS Long Term Plan Focus Group: Aapna Services
We held a focus group to discuss the NHS Long Term Plan at Aapna Services, a registered charity working closely with people from ethnic minority backgrounds who are socially excluded on the grounds of their ethnicity, religion, belief or creed.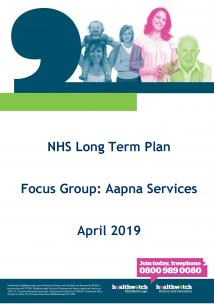 Summary
Following the proposal of the NHS Long-term Plan (LTP), we were funded by NHS England and NHS Improvement to engage with communities across the country to establish how the LTP should be implemented locally. Engagement involved gathering views through the NHS Long Term Plan surveys and focus groups.
We accessed Aapna's multicultural day service, which provides support to women from BAME communities who have been identified as having a long-term mental health problem, a long-term illness or have become housebound or isolated.
Summary of findings:
Long term conditions such as diabetes were prominent among the women. Therefore, the management of repeat appointments by primary care services were a prime concern. Seeing consistent professionals was also considered to be important.
Health professionals need to take a holistic approach to the individual, with a greater uptake of social prescribing and a greater cultural awareness; signposting to the relevant support groups and sharing health information that is culturally appropriate in regard to diet, lifestyle and cultural norms should take place.
Difficulties with spoken English acted as a barrier across all stages of healthcare; whether accessing an appointment, giving feedback on treatment or obtaining appropriate healthcare information. An increased use of digital solutions would therefore be beneficial for BAME communities, such as a one-stop-shop healthcare phone app, accessible in different languages, which would share health information, offer a method of booking appointments and also a way of giving feedback.
The participants' engagement with Aapna services highlighted that community support was one of the major influences on health and wellbeing and reduced the likelihood of being isolated.
At the time of publishing this report, MVDA in partnership with RCVDA held responsibility for delivering Healthwatch across South Tees.  Since 1 April 2020 Pioneering Care Partnership has assumed this responsibility and the contact details referred to within this report have now changed.  If you would like to contact us regarding this report, please use the details below.