Sexual Abuse and Sexual Violence Awareness Week (7 - 13 Feb)
To mark Sexual Abuse and Sexual Violence Awareness Week, ARCH Teesside have arranged a very special artistic performance.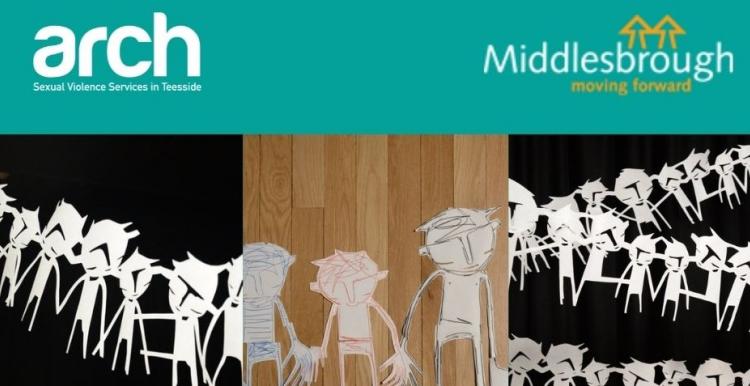 In collaboration with Middlesbrough Council, a virtual 'part performance, part installation, part collective' call for action called Cutting Out - will be performed.
This has been created by Artistic Director Viv Gordon (A local theatre maker, survivor activist and arts and metal health campaigner).  
The production is all about community connection and belonging for survivors of child sex abuse. It will depict the importance of people reaching out and show that none of them have to be isolated and/or silent.
The virtual event will take place via Microsoft teams on Friday 11 February from 2pm until 3:30pm. 
To arrange a place, please contact Claire Moore at Claire_moore@middlesbrough.gov.uk  and you will be sent a Microsoft Teams Invite. 
In addition, awareness of the week will be raised through the lighting of central buildings in Middlesbrough, including the Town Hall and water fountain in Centre Square. 
ARCH Teesside will also have lots of information on their Facebook and Twitter pages, so please re-tweet or share posts where you can, using the national campaign hashtag -  #ITSNOTOK  
ARCH Teesside -
With an estimated 11 million adult survivors of Childhood Sexual Abuse in the UK, it's really important that organisations like ARCH exist. 
They - and other similar organisations in the country -  do lots of vitally important work.
Their independent sexual violence advisors, life enhancement skills, and counselling services give people options to reach out and discuss their private affairs. 
If you'd like to get in contact, please click here for information, or call 01642 822331