New Radio Adverts From CVFM
Recently we have been working with Middlesbrough based radio station, Community Voice FM.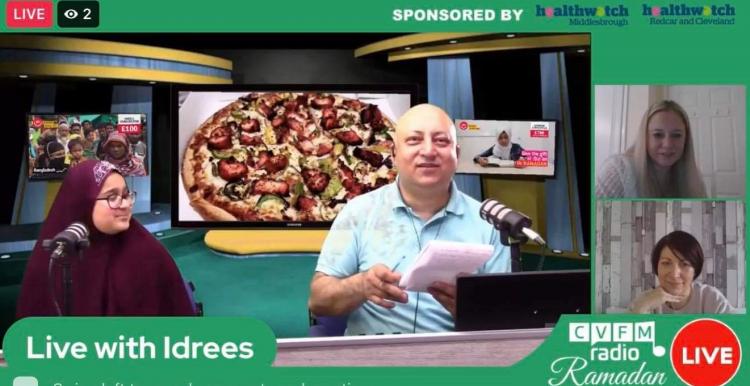 Throughout Ramadan 2021, our Project Lead Lisa Bosomworth also went live across their social media pages to talk about our services and how they can be of benefit to BAME communities in our Borough. 
Presenter Idrees (pictured), also put together some unique adverts in both English and Urdu, which were played to audiences right across the month. 
You can listen to the adverts via Soundcloud, here: 
We were also joined on the air-waves by one of our newest Community Champions, Rachel Gault (top right of the image), from Throrntree based organisation Community Ventures.
She discussed the passion she has for her role, her hopes of making a difference in the area, and her plans for ensuring that beneficiaries of the service can share opinions regarding their experiences of local health and social care.  
She said: "Working directly with local people helps my team and I understand the challenges our community face.
"When I heard about the Healthwatch South Tees Community Champions, I thought it would be a fantastic opportunity to share feedback on behalf of our community and volunteers." 
To get in touch with the team at Community Ventures, or to book a place on one of their up-coming events, just call 01642 989254. 
For more information on CVFM, please click here.