#HaveYourSay Priority Work-Planning Workshop
In February 2019, we invited stakeholders and community leaders of groups that represent older people, the BAME (Black, Asian and Minority Ethnic) population and those diagnosed with long tern health conditions to share their views and experiences.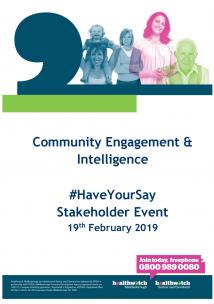 Summary
Feedback from those who attended the workshop highlighted common trends in what they consider barriers to accessing health and social care services:
Finance and support (impact of funding)
Communication (individual, between services language)
Knowledge and awareness
Isolation
Systems (Process, capacity, navigation)
Barriers/stigma
At the time of publishing this report, MVDA in partnership with RCVDA held responsibility for delivering Healthwatch across South Tees.  Since 1 April 2020 Pioneering Care Partnership has assumed this responsibility and the contact details that are referred to within this report have now changed.  If you would like to contact us regarding this report, please use the details below.
The stakeholder consultation was a brilliant event to share ideas and knowledge