Community Engagement & Intelligence - U3A Saltburn
We attended Saltburn Community Centre to deliver a presentation to the University of the Third Age group (U3A), to give an overview of local Healthwatch.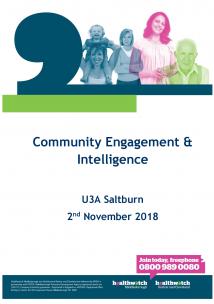 Summary
U3A provides an opportunity for those who are retired and semi-retired to share and gain new interests and knowledge. It supports the setting up and running of activity groups, offering a space for people to remain engaged with each other and their local community. The group currently supports around 60 groups and over 800 members across the district. On the day, around 120 of these members were present and 84 completed the 'Share Your Experiences - Shape Our Priorities' survey.
The surveys targeted several key issues associated with the older population, based on research; this included accessible appointments, appropriate care, the 'digital move', independence, isolation within the community and future care. The survey aimed to explore these key themes by the gathering both qualitative and quantitative information.
Questions included:
Which services have you used in the last 12 months?
How regularly are these used?
How satisfied were you with staff and treatment?
Data was also collected regarding their confidence in accessing services, whether there is enough community support available, concerns for future care, and their personal priorities in health and wellbeing. We also provided the opportunity to share both positive and negative experiences of health and social care services. The feedback we received can be found in the report.