We held our annual event on Thursday 7 July 2016 at Redcar & Cleveland Leisure and Community Heart, presenting our annual report and gathering opinions from members of the public.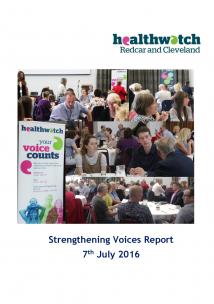 Summary
The main purpose of the event was to present Healthwatch's third annual report and to gather opinions from the public through workshop activities on how they wanted to engage with the providers of health and social care services. The 'Strengthening Voices' event attracted almost 100 people ranging from service users, family members, carers, service providers and staff from the Clinical Commissioning Groups, Local Authority and NHS England.
Attendees heard four presentations on developments to health and social care in the area. Ian Holtby, former Chair of Healthwatch Redcar and Cleveland gave an overview of Healthwatch's work and developments over the last year followed by Dr Janet Walker who gave an update on 'The Better Health Programme'. June Johnson gave a presentation on 'The STAR Scheme' and Councillor David Walsh gave an update on 'Local Developments to Social Care'. Attendees also had the opportunity to ask questions following each of the presentations.