Patient Feedback on Specialist Stroke Rehabilitation
Stroke rehabilitation was highlighted as a priority area for South Tees Clinical Commissioning Group through its IMProVE programme (Integrated Management and Proactive Care for the Vulnerable and Elderly).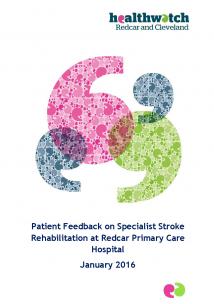 Summary
On 18 November 2015 staff and volunteers from Healthwatch Redcar and Cleveland spoke to 3 patients and their family members who had used the Early Supported Discharge Service. The patients came from different locations throughout the South Tees Area and were of varying ages.
Two of the patients had suffered severe strokes and had spent a long period of time in James Cook Hospital before being discharged on to the programme. The third patient had suffered a minor stroke and after a very short period in hospital was discharged to be supported at home.
All of the patients had been consulted and asked if they wanted to be on the Early Supported Discharge Programme. A full explanation was provided to those who chose to join.