James Cook University Hospital - Ward 12 Enter and View
We received a complaint regarding Ward 12 at The James Cook University Hospital which had been routed via the Department of Health, CQC and Healthwatch England.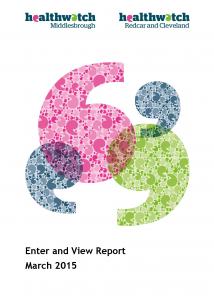 Summary
During the Enter and View, we aimed to:
Identify examples of good working practice.
Observe patients and staff during meal times.
Observe the access of patients to fresh drinking water and call buttons.
Highlights
The responses the team received from staff on some of the questions were inconsistent. There were variations in response as to what dietary assessment is undertaken on admission
Staff were asked if the current staffing levels were sufficient to ensure everyone's needs were met. Half of the staff questioned did not think levels were sufficient
Staff advised the team that they felt there were issues from meal providers regarding the temperature of food and consistency of staff