RCVDA's Volunteer Awards 2022
A ceremony was held by Redcar and Cleveland Voluntary Development Agency recently to celebrate those who go above and beyond in their voluntary roles within Redcar and Cleveland.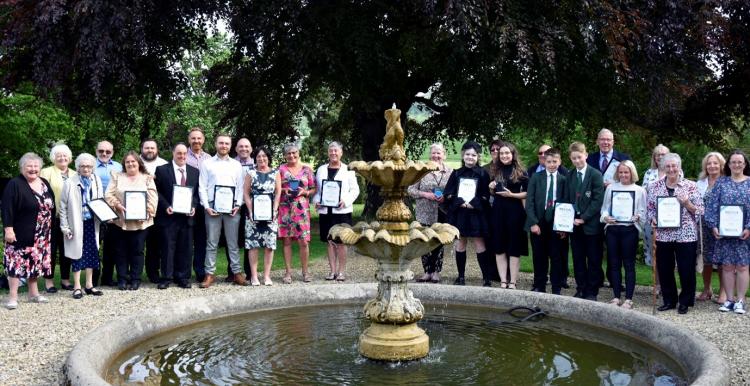 The ceremony – which was held at within the beautiful surroundings of Guisborough Hall - was presented by local radio host Jeremy Gartland  (Of Zetland FM)
RCVDA's Volunteer Support Officer Carole Marshall said: "Well done, not just to the winners, but to all the nominees. It was great to see so many special individuals who do such selfless work to better the lives of residents of Redcar & Cleveland."
"Volunteers are the unsung heroes of our borough and I'm glad we were able to host the awards this year and give them the recognition they deserve."
The full list of categories and winners are as follows:
Volunteer of the Year Award - sponsored by Sabic UK
Nikki Strangeway – Rubies
Health & Wellbeing Award – sponsored by Redcar & Cleveland Borough Council
Loftus ACCORD Walking Group
Young Volunteer (Under 21) – sponsored by Darlington Building Society
Kidz Konnekt Young Leaders
Innovation/Enterprise Award – sponsored by UK Steel Enterprise
Blooming Youth Collective
Empowered Through Volunteering Award – sponsored by Anglo American
Calum Thurston
Volunteer Team Award – sponsored by Beyond Housing
Age UK Teesside Redcar Volunteers
Outstanding Community Group – sponsored by Redcar & Cleveland College
Friends of Redcar Cemetery
Outstanding Trustee Award – sponsored by Sembcorp Utilities UK
Tim Myer – Footprints in the Community
Lifetime Achievement Award – sponsored by RCVDA
Jannette Holt
Special Awards were also given to the following individuals and organisations:
Trish Waters Award – The Spirit of Volunteering
Janice Motson
Julie Donaldson Award – Community First
Newcomen Community Residents Association
Jim Wingham Award – For Commitment and Dedication
Geoff McPherson
Graham Hubbard Award
Vanessa Kelly
The Healthwatch South Tees team would like to say a huge congratulations to all the nominees and winners this year.
Your work doesn't go unnoticed, and we are in awe of all the brilliant volunteer hours you put in to benefit the people of Redcar and Cleveland.
Huge congratulations. Keep up the great work! 
For more on RCVDA, please click here.