We're about to announce our STAR Awards 2020!
Healthwatch South Tees (HWST) developed the STAR Awards (South Tees Award of Recognition) to recognise those who go above and beyond to provide the best-possible health and social care support.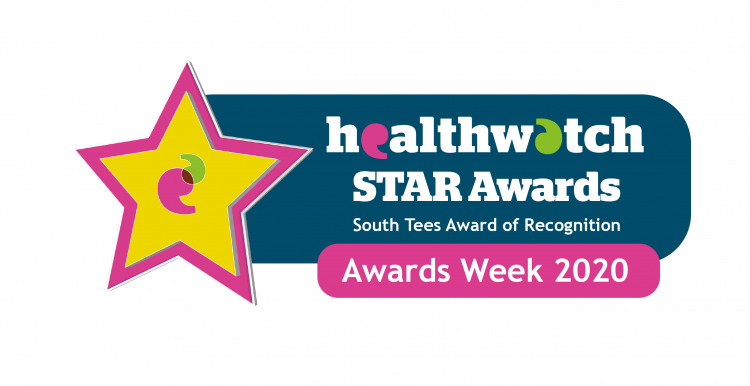 The categories for the STAR Awards are:
Care & Compassion
Community Innovator
Excellence in Supporting Others
Leading the Way for Change
Making a Difference (Volunteer)
Valued Service.
As a result of Government guidance in relation to the COVID-19 virus, we unfortunately had to make the decision to cancel the STAR Awards event, which was planned to take place on Monday 30 March 2020. We value all the nominations we received, showcasing the incredible work of individuals, teams and services across South Tees.
While we still cannot host an event, we believe our nominees and winners deserve to be celebrated. In order to shed some light on these difficult times, we have decided to create a STAR Awards week through our social media channels! Between Monday 2 and Saturday 7 November, we will announce the winners and runners-up culminating in a special edition STAR Awards e-bulletin.
The judging panel consisted of:
Lisa Bosomworth (HWST Lead), Dr. Ian Holtby (HWST Board member) and Craig Duerden (Middlesbrough Voluntary Development Agency Strategic Officer).
The criteria for scoring the STAR Award nominations were:
Above & beyond: How, and to what extent, has the nominee gone above and beyond in their role within the health and social care service they provide?
How they have helped: What has the nominee done to help those they support? How is it relevant? How was it identified? Is it a one-off or is it offered to everyone who requires it? Has it become integral to the service / support?
Difference made: What difference has been made to those who are receiving a service or support? Is it to an individual or a group?
Impact: What is the impact on those receiving support? How does it differ from the regular service or support they would receive?
We will be accepting new nominations for 2021 during January, please keep your eyes peeled for when next years' nomination process will be re-open.