Celebrities and lockdown heroes urge public to get cancer symptoms checked and attend routine appointments
Famous faces, including TV chefs Gordon Ramsay, Nadiya Hussein, and actress Emma Thompson are backing a major new campaign urging anyone concerned about cancer to get checked and to keep routine appointments.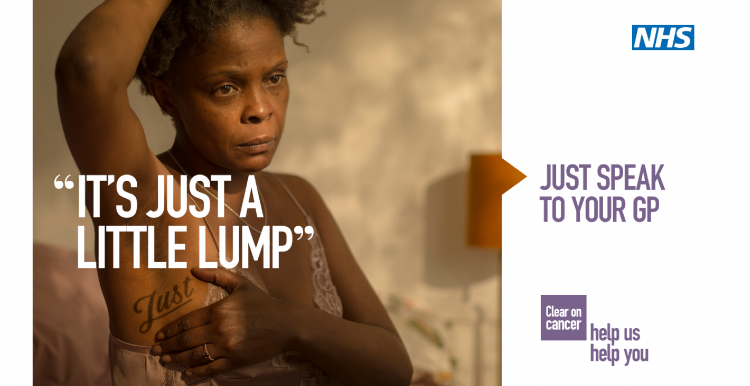 New research has found that even now, nearly half (48%) of the public would delay or not seek medical help at all.
A fifth (22%) would not want to be a burden on the health service while a similar number said that fear of getting coronavirus or passing it onto others was a major reason for not getting help.
More than four in ten people would leave it longer to get health advice than they normally would have before the coronavirus outbreak, however delaying can have serious consequences for some cancers.
NHS staff have pulled out all the stops to keep cancer services going throughout the pandemic, with almost one million people referred for checks or starting treatment since the virus took hold.
The NHS's Help Us Help You access campaign will use TV adverts, billboards and social media to urge people to speak to their GP if they are worried about a symptom that could be cancer, and also remind pregnant women to attend check-ups and seek advice if they are worried about their baby.
People with mental health issues are also been encouraged to access NHS support.
England's top GP says that people should not hesitate to get help and that waiting could have serious consequences for patients.
Alongside treating 110,000 people with coronavirus, NHS staff have gone to great lengths to make sure that people who do not have Covid can safely access services. So whether you or a loved one has a routine appointment, or a potential cancer symptom, our message is clear – you are not a burden, we are here to safely care for you so please don't delay – Help Us Help You and come forward as you usually would. Cancer is easier to treat when it's caught at an earlier stage and so coming forward for a check could save your life.
NHS services have put a range of measures in place so that people can be treated safely throughout the pandemic including COVID protected cancer surgery hubs, a COVID friendly drugs fund which means fewer trips to hospital and chemotherapy being delivered in more convenient locations. Symptoms of cancer include:
Changes in bowel habits, including blood in your poo
Unexplained weight loss
A lump
Persistent bloating
Pain that does not go away
As we head into winter, it's really important that we remember that despite Covid-19, the NHS can still see us safely. I was really pleased to help reassure the public and remind them that the NHS is here for them when they need it.
Lockdown heroes including 100 year old Dabirul Choudhury with his Ramadan walk, Annemarie Plas who started Clap for Carers, and Ayesha Pakravan-Ovey who delivered hundreds of meals to those in isolation, will all join the NHS plea to say letting the NHS help you is one of the best ways of supporting the health service.
Covid-19 has been hugely challenging for everyone and while it's easy to understand why people are fearful about seeking medical advice and want to avoid being a burden, it's so important that people come to see us when they need us. If you're pregnant, please go to your antenatal appointment and contact us if you're worried about your health or your baby's health. And if you've spotted something you think might be cancer, please contact your GP. We're still here and we can see you safely.
Facts and Stats:
Kantar data found that even now 48% of the public would delay or not seek medical help at all. 
Latest figures have highlighted the drop in patients seeking medical help when experiencing potential symptoms of cancer.
While the number of urgent cancer referrals is back up to 80% of pre-Covid levels, there are some people who may have worrying symptoms who are still not contacting their GP.
180,000 people with potential cancer symptoms did come forward to their GP in July 2020 and over 90% of them were subsequently seen by a specialist within two weeks. Cancer treatment levels were maintained at 85% of 2019 levels during the height of the pandemic and have been growing since – showing that the NHS is there for people when they need it.
Over five million routine tests and treatments have continued during the pandemic alongside more than 700,000 cancer referrals.
Despite facing its biggest challenge yet with COVID-19, the NHS continued to deliver up to 1,800 babies a day.
ONS data says that 70% of said they would feel comfortable about seeking advice on the phone from a health professional. 64% of said that they would feel comfortable attending an online appointment with a healthcare professional.
70% of said they would feel comfortable about attending an appointment in person with a health professional. 59% of said they would feel comfortable about attending A&E if they have an urgent health concern.