Who has won the South Tees Award of Recognition in previous years?
People who make a positive difference deserve to be recognised! Find out what impact previous STAR Award winners have had on local health and social care needs.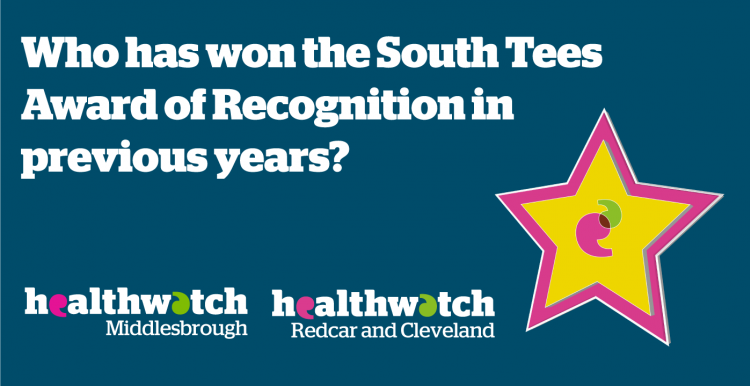 Winner 2017-18: Angela Bedingfield - Eye Clinic Liaison Officer, James Cook University Hospital
We carried out an evaluation of Angela's role and received outstanding feedback from the patients she supported.
Having someone that I could go to is something I've never had before. Someone who is prepared to listen and has a good understanding. I used to feel very isolated but Angela has always proven to be very competent and is now my first point of contact if I need any further support and advice. The ECLO service has given me more confidence to go outside, I never would have been able to do that before.
Winner 2018-19: Kathryn Luczakiewicz - Founder, Saltburn Wellbeing Centre
Kathryn has been a long-standing member of Healthwatch and has always raised awareness of issues that affect her clients, particularly those who seem to fall through the gaps in services and those in mental health crisis including ex armed forces personnel. We have signposted individuals to the Wellbeing Centre when we have been unable to find appropriate statutory services. The Wellbeing Centre, and Kathryn in particular, does everything she can for individuals and never turns anyone away in crisis.
In my own direct experience of working alongside Kathryn over the years, I have been enormously impressed by her selfless commitment to the ongoing success of the Saltburn Wellbeing Centre as a place where people from all backgrounds can access support for all manner of things.
Winner 2018-19: Sophie Colella - Mental Health Partnership Worker, Middlesbrough Job Centre Plus
Sophie supported the inclusion of Requesting Adjustments to Claimant Commitment (RACC) Form, developed by the Talent Match Middlesbrough Young People's Panel, at Middlesbrough Job Centre Plus (JCP). It is a conversation starter that highlights young people's mental health, anxiety, and other issues due to adverse life experiences, e.g. homelessness, carer and being in the care system. Because of Sophie, the JCP now use this as part of their suite of documents for work coaches. They are starting to roll this form out regionally with a view to adopting it nationally.
Some young people find it hard to communicate with work coaches for lots of different reasons, with the RACC form, it's a positive way to help the work coach understand a young person's situation and are able to give the necessary support. This gives the young person the confidence to open up about their circumstances and improve communication between the two, helping to improve their mental health and wellbeing.